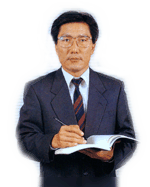 I am greatly honored to invite you for the 5th Asian-Pacific General Galvanizing Conference in Busan in 2001 which has been developed and supported by all the galvanizers in the Asian-Pacific area on the basis of mutual understandings and technology exchanges.
The conference will start its official schedule from the welcome reception at the garden of the Paradise Hotel & Casino Busan in October 21, 2001. And three days of conference meetings in the Busan Exhibition & Convention Center(BEXCO) and one day optional tour including Plant & Kyongju tour and golf tour will be followed. During the days it is planned to suggest enjoyable and comfortable dinners being opened to all the participants. In addition a spacious exhibition area will be arranged to increase the scope of the conference.
I am sure that the 5th APGGC will be a very important place for exchanging the participant's experiences and information in the galvanizing industry. All the topics relating to zinc galvanizing industry will be dealt in every session. In addition there will be suppliers and other related people from all around the world, and I guarantee that you can get a lot of precious information at every corner.
The host city, Busan, is one of main port cities of logistics in North-East Asia and has various kinds of attractions such as historic sites, beautiful beaches and well-industrialized complexes. We are also very proud of Busan as the host city of 2002 Asian Game and Worldcup in 2002.
For the spouses and children, we are preparing an exciting and unforgettable program of Korean cultures and other amusement things.
We, the members of Korea Galvanizers Association, are doing our best to keep the precious ideas of the previous host countries of Taiwan, Japan, Australia and Malaysia, and to hand a successful meeting over to the next host country.
I hope we can see you in Busan, such a beautiful seaport city, in October, 2001, and I'm sure you won't miss it.
With best regards,
Joon-ho Lee, Chairman
Korea Galvanizers Association